Some fairy tales begin in castles…some begin on the sand
Begin your forever at Finest Punta Cana
Our inspired Punta Cana wedding packages were curated to ensure a stress-free experience, from the onset of preparations until the moment you say "I Do." For those looking to escape from the ordinary with a Punta Cana destination wedding, we have a dedicated team of highly-experienced professionals who ensure that every aspect of your special day is complete and utter perfection. Whether you prefer an extravagant celebration or an intimate barefoot affair on the beach, Finest Punta Cana is ready to design the day of your dreams.
We've created a myriad of options to suit every taste and budget, and our visionary experts ensure that every detail of your wedding exceeds your expectations, from stellar catering to fresh flowers and dazzling décor. We also understand that a perfect destination wedding encompasses so much more than just the ceremony and reception, and that's why we offer a wide array of spa and beauty services onsite at our ONE Spa as well as a honeymoon experience complete with our luxurious suites, in-suite jacuzzis, and private outdoor spaces.
Our wedding experts have curated offerings to suit every couple's vision, budget, and taste.
Packages perfectly suited to the day of your dreams
EXCELLENCE WEDDING PACKAGE
SELLING PRICE: $850 USD
This Punta Cana wedding package is complimentary when you book a minimum of 30 paid room nights.
An ideal and affordable option for the Punta Cana destination wedding of your dreams!
For more information, visit our Wedding Packages page.
EXCELLENCE OF LOVE WEDDING PACKAGE
SELLING PRICE: $1,500 USD
In addition to everything that is included in the Excellence Wedding Package, this upgraded package option also includes items so that you can keep the celebration going during your upcoming Finest Punta Cana destination wedding, like a cocktail hour and private reception. Plus, makeup and hairstyling for the bride.
For more information, visit our Wedding Packages page.
GOLD EXCELLENCE WEDDING PACKAGE
SELLING PRICE: $2,400 USD
Our most luxurious Punta Cana wedding package features everything included in the Excellence of Love Wedding Package, in addition to a musical trio, ceremony video, upgraded private reception, and several other luxury perks for an even more spectacular destination event.
For more information, visit our Wedding Packages page.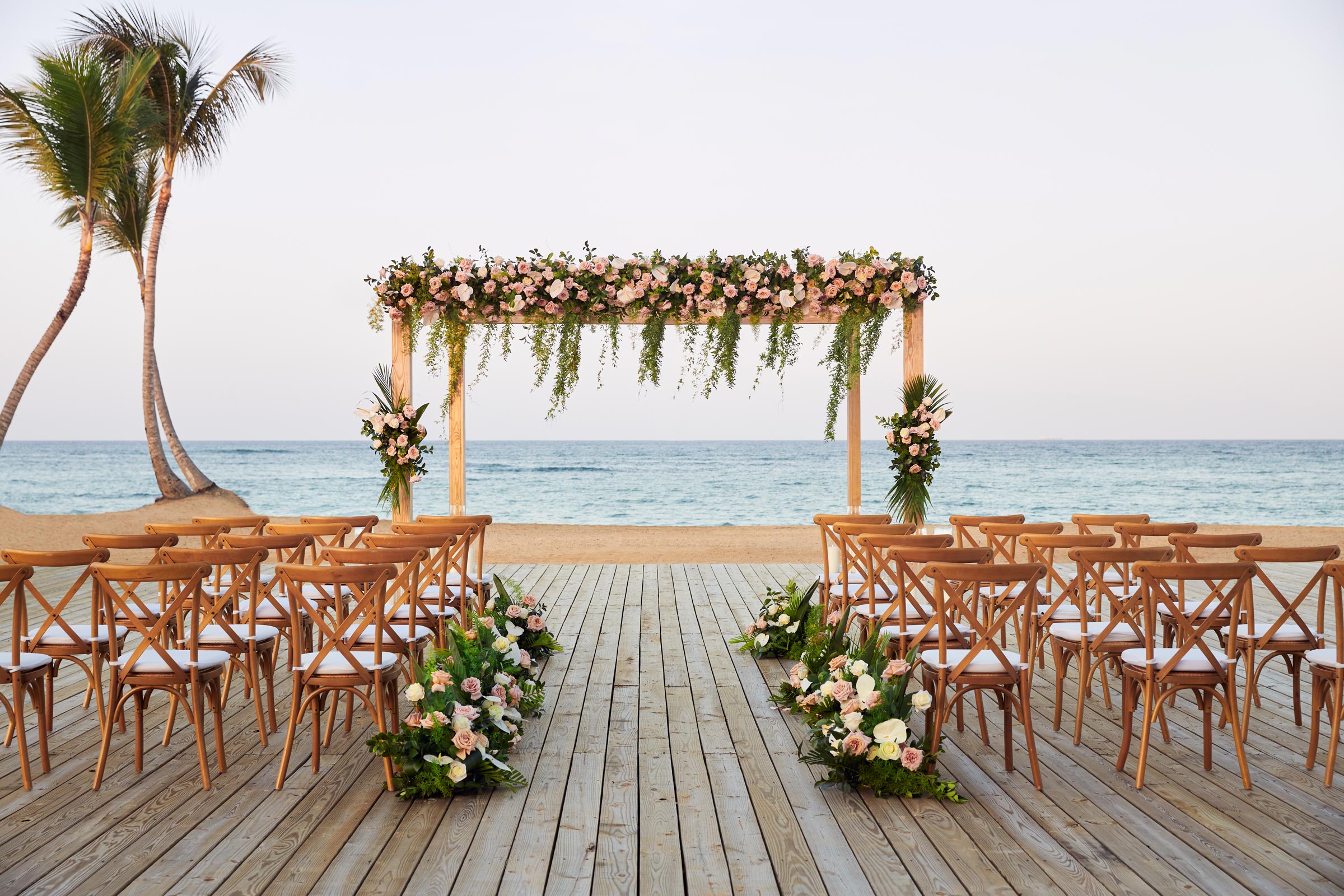 Additional wedding services
Special floral requests (centerpieces, deluxe bridal party boutonnieres and corsages)*
Photography
Video of ceremony
Special décor
Romantic couple's spa packages at ONE Spa
Bridal hairstyling
Bridal makeup application
Music (DJ or live music)
Entertainment
Romantic beach dinners
Fireworks and indoor pyrotechnics
* Must be ordered in advance
Have something else in mind? We're here to help every step of the way to the altar:
Marry your other half all over again, this time in paradise! Our Caribbean beach resort has everything you desire to share an uplifting experience of devotion and romance in Punta Cana, the best destination to renew your vows. Our vow renewal package will elevate your vacation escape with bespoke services such as an intimate ceremony, a wedding cake for two, a private beachfront dinner for two, and even more.